Home Insurance in West Seattle, Burien & Seattle, WA
Your Home Insurance Partner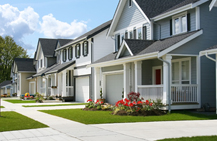 Don Swanson Insurance has helped all kinds of homeowners throughout Burien, Normandy Park, Seattle, Des Moines, Sea Tac, West Seattle, and all areas throughout the Puget Sound region. Our ability to match your needs with a valuable and affordable homeowners insurance policy is unmatched. We literally do the shopping for you, finding the best provider and the best policy to protect your home and preserve your budget. Request a quote today and find out how affordable great coverage can be. You can also check out a selection of the home insurance products that we offer:
The Benefits of Home Insurance
Homeowner's insurance may cover more than you think. Not only does it protect your home as well as the valuables and furnishings inside, home insurance can include coverage that protects you from liability in the even that another person is injured on your property. Basically, the bottom line is this: your home is such a major investment in your life and if something happened to damage that investment, you could be back at square one. To get the protection you and your family deserve from losing the house you call your home, get in touch with Don Swanson Insurance about a home insurance policy today.
Related Products: